It's not just the low number of infections that catches the eye in Nepal. It's also how slowly Covid-19 has spread. The first case was confirmed on January 24 when a student who returned from Wuhan tested positive. Nearly three months later, Nepal has only 12 confirmed cases!
Is the slow rise in cases all due to insufficient testing? The next few weeks will likely tell, as testing is gearing up across the country. New test kits from China were just put to use.
The last three cases of infection – number 10, 11 and 12 – were in fact confirmed positive just today: three Indian nationals who reside in Birgunj turned out to have contracted the virus!
So close, and yet so far from an epidemic?
It was worrying back in January to read about the increase in infections by the novel Corona virus, Covid-19, in China. Cases were on the rise in Wuhan city in Hubei Province, the epicenter of what's now called the Covid-19 Pandemic. So close to China, wouldn't Nepal be hit soon?!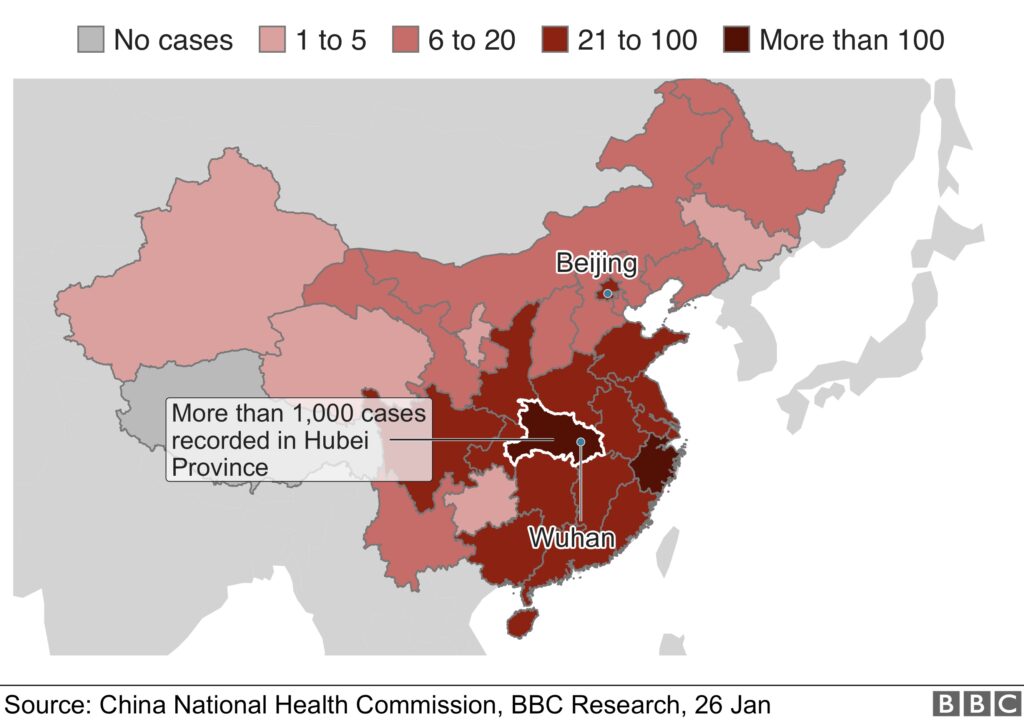 On January 27, three additional patients were tested yet all negative. But the National Public Health Laboratory still took action: it ordered test kits and scheduled trainings for doctors and nurses at the major hospitals. The Covid-19 epidemic was expected to hit Nepal at any time!
Horrific scenes of the outbreak in Wuhan led parents to demand immediate evacuation of their sons and daughters studying in the Chinese city. The Nepalese government ultimately agreed and airlifted 175 nationals out of Wuhan on February 16. Due to high risk of infection, they were all kept in quarantine in Bhaktapur for two weeks. Yet, all tested negative on March 3.
The "Corona scare" was still on, however, as Covid-19 was spreading worldwide. But the Kathmandu Post did note on March 21 that still then only one person had tested positive:
"As fear grips the world, the number of people in Nepal diagnosed with Covid-19 remains, inexplicably, at one… [D]espite the fact that the virus originated in China, and the Nepal government has still not restricted movement from the northern neighbour, Nepal has not yet seen an outbreak."
Nepal was so close, yet so far from a major Covid-19 outbreak, it seemed. At the end of the day, though, it was fear of the worst-case scenario, not optimism of staying clear of the pandemic, that understandably dictated government policy – and indeed still does today.
Closing down yet a country: Nepal in lockdown
On March 20, the government took its first steps to lock down Nepal. The Kathmandu Post wrote:
"The government has been slow to act, but on Wednesday, it finally decided to restrict all arrivals — even Nepalis — from over 50 countries that have reported outbreaks, from midnight on March 20 to April 15."
This step was followed by another and then another. On March 22, the government announced its decision to virtually close down the airports for both domestic and international flights. The next day, it declared a total lockdown of the country.
China, Italy and several other countries had already done it, and now Nepal followed suit. Hours after a second case of Covid-19 had been confirmed, the government decided to prohibit most travel and movement in the country; many shops had to stay closed; and people were not to leave their homes for a week except for medical purposes or to buy essentials.
Two cases of Covid-19, no deaths, and a whole country at a complete standstill! It could sound almost insane, were it not for the frightening numbers of Corona cases and deaths coming out of not least Italy. These were preemptive measures to the extreme to avoid a real outbreak in Nepal.
The suffering in Nepal's economy
It's been a slow, even miniscule, epidemic in Nepal until now, yet one with huge economic consequences for many people already.
Tourism was hit hard from the outset as the outbreak in China spilled over on Nepal. In January, the number of Chinese arrivals began to drop, and so did tourism from other countries. Indeed, who would like to visit a country so near to the epicenter of a rising pandemic?! Travel restrictions in countries in Europe and elsewhere later on did not help, either.
In Thamel and in Pokhara, two major tourist hubs, business by early March was down in many hotels and shops by 50 pct. or more. Some hotels had to face a 90 pct. drop in occupancy!
The "Visit Nepal 2020" promotional campaign, which was to help the country finally pass the 2 million visitors mark, was postponed indefinitely on March 1.
Migrant workers are another group hit hard by the situation. At present, they are in a precarious situation especially in countries fixed in a lockdown. Their workplaces are typically closed and they cannot earn an income, while they also cannot return to Nepal. Indeed, since March 22 not even Nepali nationals have been allowed to re-enter the country.
At the border with India, this has led to tumultuous scenes. Hundreds of migrant workers are stuck on the Indian side, just as Indian migrant workers are left stranded on the Nepali side, as neither country allows repatriation. This is in order to prevent Covid-19 to spread further!
The agricultural sector is faced with difficulties too. With the country in lockdown, some are unable to even work in their fields. It can be difficult and far more expensive to transport vegetables, milk and other produce to the market in town. Agricultural labour costs more too!
Or take workers in the construction sector in Kathmandu who have had to travel back to their villages, some on foot as far as to western Terai, for lack of work as a result of the lockdown.
How severe the economic consequences will be is uncertain. Perhaps the Covid-19 crisis is only about to get started in Nepal, as government, health practitioners and many ordinary citizens are preparing for the worst. The World Bank predicts merely a few percent growth in 2020!
Quarantine centers and other preparations
Testing on a larger scale not least at quarantine centers are now at the top of the agenda.
On April 5, the government decided to launch rapid testing of people in quarantine to determine who and how many are actually infected. This was supposed to happen only after careful validation of a "rapid test kit" imported from China yet never validated by the WHO.
But then, testing started up anyway!
Already in mid-March,
Province 1 decided
to set up three quarantine centers with a combined capacity of 440 beds which could be expanded with 200 beds if necessary.
Quarantine centers were soon made ready across the country. People have been interned at schools, tent camps and other facilities in several districts already, such as in Doti, Morang and Banke.
The government has instructed returnees from abroad to go into two-weeks
of self-quarantine. UNICEF has
contributed to programs
for testing returnees for the Covid-19 virus. As the WHO has advocated from the outset, testing is everything!
Experts say that the low level of infections in Nepal is simply due to an inadequate number of tests in a country of about 30 million people. If this is true, Nepal is in for a rapidly growing number of cases in the weeks to come, as testing has entered a new stage of urgency.
The lockdown is still on, and the economic prospects look still bleaker, even with just twelve registered cases on Covid-19. If the number of "Corona-infections" is about to increase, the consequences for Nepalese society could be dire. We hold our breath as a slow epidemic – not least due to increased Covid-19 testing – might now soon appear to go into a higher gear.