Corruption continues unabated in Nepal's local governments, and some would even say that it has increased. But in today's municipalities, could also the methods of corruption – such as how local representatives misuse public budgets – be the same as in the past? Well, some of the most common methods of corruption are exactly the same. Last year, investigative reporters over at CIJ-Nepal uncovered corruption in Gujara Municipality in Rautahat, and the methods they detected were just the same as in VDCs that we visited twenty years ago!
If common methods of corruption at local level have remained the same for at least a couple of decades – well, a lot longer, in fact – should it not have become easier to spot and address corruption when it happens? Indeed, many people involved in local government in Nepal do know the methods. But it's one thing to know how corruption is carried out, quite another to actually detect and stop it. The reporters at CIJ-Nepal found exactly that in Gujara Municipality. But before getting into the difficulties of addressing corruption, here's a look at the methods.
Over-invoicing: making it look costlier than it is
The first method of corruption in Gujara was "over-invoicing". The reporters at CIJ-Nepal uncovered several cases of over-invoicing. But just one example will illustrate how it works.
The municipality in Gujara had allocated 50,000 Nrs. in the budget for classroom furniture at a primary school in one ward. The Ward Committee in the particular ward, however, only used some of the money for furniture. The rest they "creamed off" and shared amongst each other! The budget was 50,000 Nrs. while the actual price for the furniture was just 18,000 Nrs. The vendor inflated invoices and receipts to match the overstated budget; the Ward Committee paid the actual price of 18,000 Nrs.; and then pocketed the unspent amount of 32,000 Nrs.!
Here's an identical example from a VDC that we visited in Kavre district almost twenty years ago. The VDC Chairman and a Ward Chairman from the same party had put school furniture on the budget to improve facilities at a primary school. However, they creamed off half of the budget and put it "in the pocket". They first inflated the budget. Then the carpenter – a relative of the Ward Chairman – made invoices and receipts to match the inflated budget amount. Finally, the actors involved creamed off and shared the unspent budget between each other.
Cutting down on quality to "cream off" the budget
The reporters at CIJ-Nepal uncovered several cases in Gujara of another method of corruption: cutting down on quality in order to cream off the budget. This was seen not least in roads.
Many of the roads listed in the account books as completed were in fact in various states of disrepair. One road featuring in the records as "graveled", for instance, was in practice little more than potholes and sand with a sprinkle of gravel on top. Another road was listed as "blacktopped" but only had a thin and patchy cover of asphalt to show for it. It was not for lack of budget. But what the local representatives had done was to cut down on materials, like gravel and asphalt, in order to save an amount in the budget which they could then cream off!
The VDCs that we visited almost twenty years ago were like a treasure box of similar examples. Take a water intake project in a VDC in Kavre district. An NGO had donated money to the VDC to build a cement structure for drawing water on a slope. Only one year later, however, nobody was using the water intake because it was already leaking! The VDC members involved had used too little cement and mixed it with too many rocks from a crumbling temple. Cutting down on quality, they saved half the budget which fake receipts allowed them to cream off!
A further detail is that the VDC members involved in the water intake project had shared ten percent of the creamed off amount with party leaders at district level who had brought the NGO to the VDC, and to other VDCs in the district "in need" of water intakes, in the first place!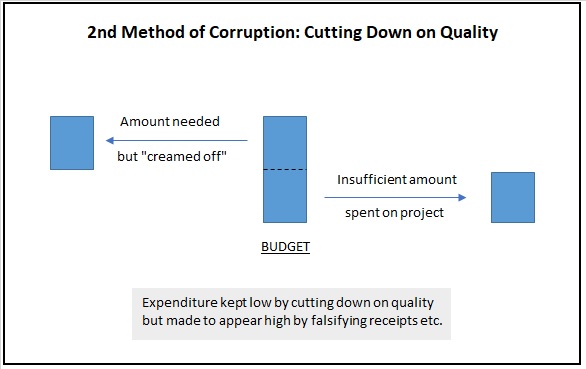 Creating "ghost projects" to misuse the whole budget
The CIJ-Nepal reporters came across a third method which was also common in the past. Several projects listed as completed had never even left the ground. In Gujara, a road project with a budget of 500,000 Nrs. turned out to be such a mere "ghost project". Another example was the purchasing of sports equipment worth 400,000 Nrs. for local youth clubs which only existed on paper, not in reality. Add to that a number of trainings that never ever took place. Falsifying paperwork, the local representatives had allegedly "pocketed" the unused amounts.
The same method had been applied in VDCs that we visited twenty years ago. Falsified invoices and receipts would "document" that the budget had been spent as planned, but a field inspection, if ever conducted, would prove the opposite. One ghost project that we came across involved, in fact, not only the local VDC Chairmen but also district-level representatives, an MP, an engineer and overseers, a minister and the prime minister himself. Official records showed that a dike had been built a year earlier to protect three villages against annual floods along a river. But a first-hand inspection revealed that next to nothing had ever been built!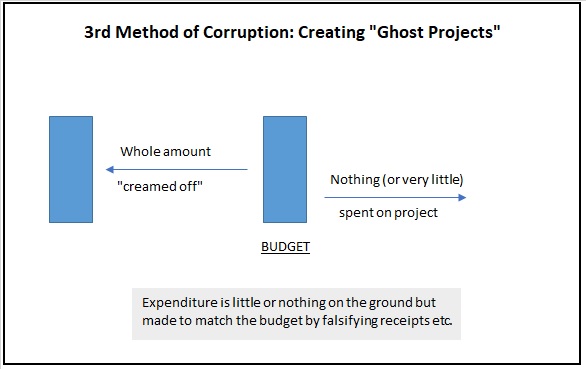 What allows old methods of corruption to continue?
How can not only the pervasiveness but also the use of these old methods of corruption continue unabated? Should not the most common methods of corruption, such as those above, be more easily detected and stopped in their tracks after so many decades in use? Well, knowledge of those methods does not automatically lead to effective actions or procedures to end them. In Gujara, the mechanisms of accountability, not least, were just too weak. Also in this respect, the situation was the same as in VDCs that we visited twenty years ago!
The CIJ-Nepal reporters asked Ward Chairmen in Gujara whether they knew of the ongoing corruption in the Municipality and whether they had tried to address it. Several Ward Chairmen were indeed well aware of most of it and had also taken action. But they had been unable to stop it. They had submitted a letter to the Mayor under the Rights to Information Act, demanding full disclosure on a number of projects, and called for a meeting. But the Mayor and his closest allies at the Municipality had denied access to all records and kept on postponing the Municipality Assembly meeting, apparently to avoid any further protest.
The typical course of action in that situation is at local level in Nepal to either give up protests or to call on powers higher up in the system to interfere on one's behalf. The Ward Chairmen in Gujara had virtually given up on staging local protests. Apparently without informal channels to politicians at higher levels who could take action in their favour, they had simply followed the formal procedure which is available to any local representatives at municipal level in Nepal. They had filed a complaint at the Commission for the Investigation of Abuse of Authority (CIAA), in Mahottari. Did anything result from this complaint? Well, nothing at all!
To their further disappointment, also the Auditor General failed to detect any corruption even in cases where the CIJ-Nepal reporters could show that the budget was "spent" but little or no work had been done. In violation of existing rules and regulations, the Mayor and his majority had set up user committees without involving the Ward Chairmen concerned. They had made Ward Chairmen sign meeting minutes in advance and under a certain amount of pressure. Indeed, the Mayor and his allies had falsified invoices and receipts. And yet, the Auditor General had approved all accounts, apparently because everything looked in order on paper.
Ward Chairmen in the VDCs that we visited twenty years ago had very similar experiences. A case from a VDC just outside Kathmandu will suffice to illustrate a very common situation.
The VDC in question was ailed by local competition between two main parties, as were many other VDCs at that time. One party was in majority as it had a few more Ward Chairmen than the other party. The majority was in a sense entitled by law to make all decisions in the VDC: the law stated that a VDC was to make decisions by simple majority vote. However, contrary to the spirit of the law which was to enhance people's participation and allow everybody to share in the "fruits of local democracy", the party in majority "monopolised" the decision-making. They not only favoured their own wards but also misappropriated the budget in the process!
The Ward Chairmen in minority and their party committee in the VDC area made various attempts to hold the VDC Chairman and his majority accountable. They "banged the table" at VDC and Village Council meetings in demand of full disclosure. They gathered a "delegation" of villagers to confront the VDC Chairman at his house. They tried to call on officials at higher levels for support. But their strongest card was merely a Member of Parliament who was not from the governing party at the time. The VDC Chairman, on the other hand, had strong connections at higher levels, and the local minority was ultimately powerless as a result.
Has nothing changed then with respect to corruption at local level in Nepal? Well, if news headlines are anything to go by perhaps the only real change is that local corruption is even more pervasive and blatant today. The
story last year
which revealed that almost half of the Mayors elected in 2017 are directly or indirectly linked with entrepreneurial companies and other "contractors" is just one example. Numerous stories about how Mayors and Ward Chairmen misuse power and misappropriate budgets to
favour such companies
are another. But why would the persistence of local corruption actually be surprising? Well, it is and it isn't.
It is surprising because the restructuring of the local government system which was formally completed in 2017 was widely seen as a turning point away from corruption towards a more accountable setup. At the same time, however, it isn't surprising as the difficulties of actually changing local government practices are well-known. Positive stories make some headlines, too. It's always a mix. But corruption is a dominant feature. In an upcoming post, we shall take a closer look at the formal changes that were envisaged to improve accountability at local level. Until then, we'll end this post with the most recent, albeit discouraging news headline:
"A total of 6,000 complaints [out of 24,000 complaints, covering all sectors, so that's one of every four complaints] have been filed at the CIAA against the local level in one fiscal year."