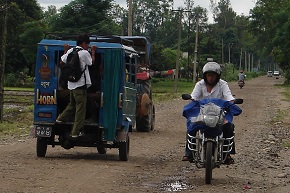 Welcome to the theme!
Local Nepal is changing like never before, and one of the major drivers of change are the country's growing number of roads! That's at least our experience. The road networks connecting district towns and villages have expanded dramatically over the last twenty years. Sure, only few roads are paved and many gravel roads are full of potholes. But roads have opened up thousands of once "remote areas" to cars and buses. The Sindhuli Highway or the Jomsom Road only start the list. Where are the roads being built? What are the effects, exactly? Stay tuned for updates here!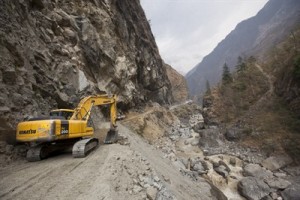 What's New!?
Proposed highway and railway through Chitwan park.
Huge plans for more roads in Nepal underway.
New Hetauda-Kathmandu freeway coming and it's giant.
Highway to heaven – almost…Paved road to Lukla.
To build roads or not… That is the question.
mnbmnbmnb
Proposed highway and railway through Chitwan park!
It's one of
the most successful conservation initiatives in Asia
: the Chitwan National Park! Sure, many tourists go there without seeing a trace of tigers, still calling Chitwan home. But rhinos are a common sight and poaching has become steadily less common, according to
conservationists
. Indeed, the quiet and unique jungle atmosphere is a treasure of its own! But if the government has it's way, it won't remain so for long! The government plans to lead a highway and railway track through the park. Will it happen? It's not certain, but it just might. We love the jungle of Chitwan – once the biotop of most of Terai – so we have signed
a petition
against the project. Or is the encroachment on the reserve worth the income and employment that a highway and railway might create? Well, guess it all depends…
Huge plans for more roads in Nepal underway!
Highways, bridges, tunnels – all are crucial to Nepal's economic growth and development. That's the government view and that of major donors like the World Bank. Indeed, it's going to transform the country in many ways – once it happens – and you might miss the quiet of the past. But it's hard to argue with: few countries have achieved strong economic growth and development without fairly good infrastructure. As illustrated here with excerpts from an article in World Highways, common arguments go like this:
"Nepal's road network is growing but there is an enormous need for more investment. A study in 2007 revealed that the country had 10,142 km in all of surfaced roads and a further 7,140 km of unsurfaced roads. Nepal has 75 District Headquarters and up to 15 have no direct connection by road, while 33% of the population live at least two hours walk from a road, presenting a major challenge to economic growth as well as for other factors such as education or health… Because Nepal is landlocked, it relies on its transport links with China and India for trade and the nearest port is in Kolkata (Calcutta). But there is only one dependable road link between the Kathmandu Valley and India at present and the development of a new route will bring enormous economic benefits."
So, what are the plans for highways, bridges and tunnels? Well, here's the article with latest details…
"Nepal has 75 District Headquarters and up to 15 have no direct connection by road, while 33% of the population live at least two hours walk from a road…" In World Highways
New Hetauda-Kathmandu freeway coming and it's giant!
There's only one highway from Kathmandu directly to the Indian border – and it's often a hassle taking it. Congestion can cause major delays and even when it doesn't, the trip easily takes 7-8 hours. But now those troubles may soon be gone. A four-lane freeway – with miles-long tunnels – it set to cut through hills and rocks from Hetauda to the capital. New travel time: one hour! The company behind it is NPBCL or Nepal Burwadhar Bikash Company Ltd and the project title: Kathmandu-Kulekhani-Hetauda Tunnel (KKHT) Highway. The video opposite is in Nepali but shows an animation that tells the story.
Plus, visit NPBCL's website for details! The projection is that the highway can be built in 4 years. Still no project start or deadline is officially set, to our knowledge, but the formalities – concession and letter of permission from the government – are in place. It's 58 km. of road, including three tunnels with a total length of 4,5 km, and the price tag? 345 million USD. Funding is a jig-saw puzzle of private and public money. Of course, that particular aspect might mean delays – everything from local VDCs to foreign donors are set to contribute – but construction has commenced, so for now the highway is underway! Read more
here
and
here
.
NB: It's going to be a toll road and NPBCL will have the concession for 30 years after completion…
Highway to heaven – almost…Paved road to Lukla!
Government has announced a plan to built a 100 km. paved road from Jiri to Lukla. Tour organisers have been longing for such a road for many years. Reason? Bad weather often disrupts flights to Lukla, making trips to Everest chaotic and more expensive. Indeed, some trekkers might also like the new road for allowing them to skip the four days walk up to Lukla. But what about the loss of quiet mountain ambience? Well, nothing mentioned about that. It's all about getting tourists to Everest and making money on it. All understandable of course. Work is set to commence now!
Read more…
Only 12 percent of Nepalis, including those living in urban areas, consider the roads where they live "good". IRIN Asia
To build roads or not… That is the question
Roads is not a panacea, Irin Asia writes, but it's an inescapable part of any national development. In many districts, poor transportation is automatically making price levels higher! It's more expensive to bring goods and it's equally costly to collect produce and bring it to town. Few well-qualified teachers want to settle at a remote school far away from the comfortable lifestyle of more accessible areas. Healthwise, lack of roads also means poor access to good health services. Indeed, the list goes on.
Here is a lot more
on why roads – according to many – are the question!
Roads and nostalgia – a memory from Jomsom
Imagine being on a hike along a seemingly pristine mountain trail, feeling light years away from the noise and smog of the city. Why did you go there? Well, not because you had to reach the market in town or the healthpost to see the doctor or buy medicine. No, you went there longing precisely for the pristine and isolated, hoping to connect with the silence of the mountains and feeling back in time to how Nepal once was. Then, unforgivingly, the roar of a truck breaks the silence and you are left in a cloud of warm dust and fumes as the heavy vehicle climbs on to the next bend. So much for pristine and isolated! Continue reading the article…
The lines above were inspired by the contrast between the scenery of mule drivers making their way up to Jomsom – like they have done for centuries – and the noisy mountain road. Indeed, even the celebrated and longed-for Annapurna trail on the Jomsom side has not been spared in the drive for roads. Good or bad? Well, it's supposed to help the local economy. Ask tourist trekkers, though, and many our not entirely without concerns. But it's probably true: also this road is good for many things. In either case, watch the short video for a minute of nostalgia:)
Winners and losers: impressions from Jomsom/Lo Montang
Kunda Dixit from Nepali Times went up to Jomsom and Lo Montang to examine the new road and its effects on the local community. What he found? Well, both winners and losers. Indeed, the mule drivers were not all that happy for the road which was quickly undermining their business! Truck drivers, on the other hand, were content. After all, trucks are quicker and often cheaper than a mule back. But it was not only that. A whole culture – eovolved around the mule caravans for centuries – seemed set to disappear.
Kunda Dixit writes in his article: "Horses, mules and donkeys have always been a part of Mustang's landscape and culture. Horses, in particular, have a prominent place in Tibetan lore and language, the animal not just a means of transport but also serving as a potent symbol of speed, certitude and good fortune. But all this is soon about to change with the arrival of the road from the south that will make it possible to drive from Pokhara to Lo Manthang in less than 12 hours, and connect to the road to the Chinese border at Kore La." Read Dixit's article on the effects of the new road here…!
Mid-Hill Highway – 1776 km. of road from East to West!
It can seem almost impossible considering the terrain of steep hills and deep valleys, but it's nonetheless a fact. The Mid-hill Highway – going from East to West across the interior of the country –
is getting nearer completion
! The Mid-hill Highway is now bending its way from Chiyabhanjyang of Panchathar in the East to Jhulaghat of Baitadi in the Far-west – a distance of 1776 km. – through a total of 24 districts and 225 VDCs, directly affecting 7 million people! How near completion is it? Well, it remains a bit unclear, but large sections are already in use!
The Mid-hill highway – also called the Pushpalal highway – was initiated under the Maoist government after the 2008 election. It's envisaged as an "artery" to infuse many of the less accessible and often stagnant communities in the Mid-hill area with growth "oxygen". Marked by low income and increasing out-migration of unemployed youth, as well as poor access to public services, these communities are expected to benefit from the easier access to markets in Terai and elsewhere. The overall idea: to help local people earn an income where they live!
Has the "oxygenation" in the many hitherto remote districts and villages started? Indeed, it has in many parts,
MyRepublica reports
. Shorter distance time-wise to markets in district towns and in the Terai is already stimulating economic activity. It's become cheaper and quicker to get produce to the market towns – from apples to herbs – just as more buyers are making their way up into Mid-hill villages to stock up. The value of the land along the highway is also rising, in some areas
five times or more
! In fact, in some locations the price of land might rise even further. The government is planning to build ten "model cities" along the Mid-hill Highway, from East to West, as shown opposite.
The purpose of the model cities? Well, they are envisaged to serve as growth centres attracting locals to stay in the Mid-hills and to contribute to building their local economies and communities, as opposed to migrating to Kathmandu, to the Terai or abroad. Will the Mid-hills start to undergo a larger transformation? Well, optimism is rising and with a new road, who knows what the future will bring!
"As our village is now linked with the highway, I have planted 50-60 apple trees. If this turns profitable I will plant apple trees in 10 ropanis as I can now transport them to other markets due to easy road access…" Local farmer interviewed by a MyRepublica reporter.
Left by the road: expropriation without compensation
It's not all rosy when the dozers plough through the land of the locals. Indeed, the value of the property may go up once the road opens. But in the meantime, the only way to avoid loss is by way of receiving government compensation. To be sure, the government usually pledges a formally calculated compensation – ropani by ropani – to affected land owners. However, this promise is not always kept. In
one example from the Mid-hill Highway construction
, several hundred locals – even ones displaced by the road – were left without any compensation at all! The funds were allocated, but nobody saw it on the receiving end. The local reaction? Protest and agitation, stalling construction work for weeks! How common is expropriation without compensation? Well, here's
another case
from the Kathmandu-Hetauda highway: officials pledged to pay the affected landowners eventually, but curiously halted the payments despite funds in the budget. From first hand experience, we'll add a third example, investigated in a VDC not far from Kathmandu. Here dozens of locals were left with only partial or no compensation at all. Local officials demanded half or more of the alloted money as "commission" from each landowner; and those who didn't actively ask for the money were not offered anything either. Protest and agitation? Well, not in this case. So few outsiders would ever come to know.
But is expropriation without compensation, then, common? Only thing to conclude is: it happens.
The North-South corridors: roads to local prosperity?
The Mid-hill Highway is flanked by a series of roads that lead north and south, known as the North-south Corridors. These "corridor roads" came on the drawing board several decades ago as a major key to economic growth and development in the Mid-hills. Construction work began in the 1990s, and by the mid-2000s several roads were opened. With the recent completion of the Surkhet-Jumla corridor, there now is a whole network of north-south corridors! Do they help the local economy:
it appears so
! The topographical context along the corridor roads is unique: in a matter of a hundred kilometres or so, the climate changes from near tropical in the Terai to temperate at the higher altitudes in the Mid-hills. Farmers in places like Nepalgunj or Birgunj can't grow apples, like in the Mid-hills, and many vegetables thrive better up-hill, too. In Jumla, as a case in point, tons of apples were left to rot every year until recently due to lack of roads. But now, the corridors allow farmers to get their fruit to market! Are the corridor roads – and the Mid-hill Highway providing easier access to them – a bullet-proof solution to economic stagnation in Mid-hill districts and villages? Well, cheap produce from India is still a major source of competition, just to mention one example of other obstacles. Indeed, it's not enough to have roads and transportation. Numerous factors influence the ability of locals to sell and profit. But with roads come a chance to discover and exploit new opportunities. The position of many Mid-hill farmers to grow vegetables off-season is just one example. The roads might even lead to growing inflow of new ideas and investment. So the roads to growth have – to that extent – widened!